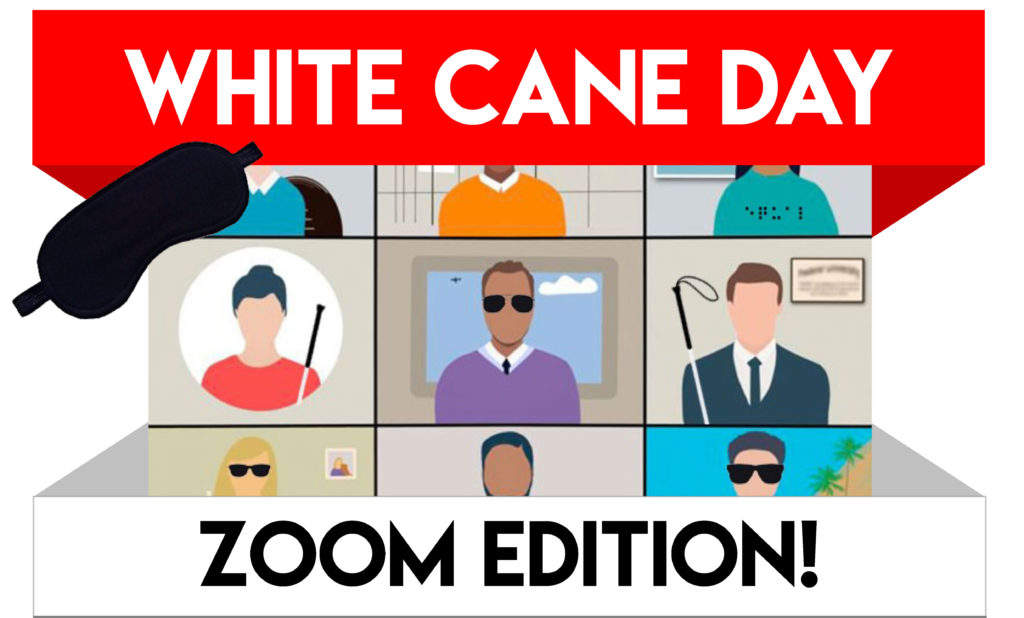 Celebrate White Cane Day with us!
Thursday, Oct. 15 @ 9:55-11:05 a.m.
In honor of National White Cane Day, join us for our annual Close Your Eyes event—this year, via Zoom!
During this eye-opening hour,
Learn more about and celebrate the abilities of our blind neighbors,
Participate in interactive activities,
Show your support for the full participation of blind Americans in our community.
Also known as Blind Americans Equality Day…
Every year since 1964, October 15 has been deemed National White Cane Safety day. In more recent years, the phrase "Blind Americans Equality Day" has been adopted. Whatever the title, the goal is the same: ensure and champion the full participation of blind Americans in every facet of our society, every day.
Zoom Info
Join by iPhone one-tap: +16468769923,,88364706340#
Join by phone: (646) 876-9923

Webinar ID: 883 6470 6340
If you are unable to access the meeting via Zoom, you may listen in using our UberConference line. Please note: all attendees are muted. 352-247-7838
---
Dining in the Dark…at a distance!
We, with the blessing of our sponsored, COVID-ified our annual Dining in the Dark fundraiser. Typically, the event brought together 250+ folks every year at our local reception hall for cocktails, a silent auction, and a sit-down dinner in the dark, served by the Lake County Sheriff's Office SWAT team – not exactly something we were able to do in July.
Instead, after postponing in hopes the world would be a little safer, we decided to adapt our event and try something else…
We made a drive-through edition of Dining in the Dark: we provided blindfolds, a meal (complete with hors d'oeuvres, drinks, and dessert), and video program to follow at home. We supported our local economy by only using local vendors.
In the parking lot outside our office at Lake Sumter State College, we had stations set up to pick up:
Appetizers, courtesy of our Appetizer Sponsor Insight Credit Union and provided by The Kitchen Cafe and Cooking School
Dinner to go, catered by Mojo's Leesburg
Craft beer (one per guests over age 21 with valid ID, in a closed container, of course) from local brewery Bru Tap in Tavares
Dessert from Cuttin' Dough, courtesy of our Dessert Sponsor, Advent Health Waterman
We also provided candy, courtesy of our Eye Candy Sponsors, Avalon Park Village and the Lake County Supervisor of Elections, and a beautiful printed program, printed by Litigation Solutions.
[Check out the program!]
Our silent auction took place online and raised over $6,000. Thank you to everyone who donated items and services for the auction, and all those who bid and donated!
We also had our quintessential "Photo with the SWAT team" set-up for your party to get your photos taken, thanks to eSportsPhoto and our SWAT Photo Sponsor, Mortgage Financial Group.
[Check out these and all the event photos here!]
Overall, the event raised more than $22,000 – not bad for a pandemic! Thank you to our volunteers, donors, and sponsors for helping us keep our annual fundraiser going! Your contributions of time and treasure will support our free services that empower people of all ages to embrace and overcome vision loss.
[If you participated and need a tax receipt, please contact Chantel at cbuck@newvisionfl.org]
Learn more about Dining in the Dark…at a distance!
---
Eye Opener Tour
Join us for an experiential tour of New Vision to help those without vision loss better understand the need for rehabilitation services in our community.
WHEN: monthly on the second Tuesday at 11 a.m.
WHERE: Zoom (until further notice)
RSVP by emailing Dr. Shelly at sgerig@newvisionfl.org.
---
Photos of many of New Vision's events are posted on the New Vision Facebook page.